French, European Airsofters Rail Against Cybergun
I guess it has already come to a boiling point. French and European airsoft players had had enough of the prices of airsoft guns that they buy, especially in France, where prices are high since even cheaper versions of airsoft guns in the market violate the IP of Cybergun, which owns tradermarks to common airsoft nomenclature and brand names such as "Hop-Up, Blowback, Air Soft, Marui, etc.". Looking at the list of trademarks owned by Cybergun, it gives you an impression that Cybergun invented Airsoft.
According to the affected airsoft players in their online petition, "Because by registering common terms as 'Hop Up' for the use of airsoft guns, Cybergun forces customs and other fraud squads to consider airsoft guns with these brands on either the packaging, the item, the manual or even on a simple label, as counterfeit.
For the professionals, the risks are very clear. If some counterfeit equipment is found in their stocks after an inspection, they will see their stocks seized, and experience bankruptcy."
They give an example on how Cybergun controls the market:
"They simply locked the market. Every airsoft gun bought outside Cybergun is illegal here… And we all know how overpriced these rebranded cheap guns are. So, let's take, for example, the Cyma CM.028. Asia (RSOV) : $90. USA : (Evike) : $110. Poland : (Taiwangun) : €85/$105. France : €110/$136. Cybergun … €170/$211! For a Cyma CM028 with craptastic fake markings!"
It will be up to airsoft players' organisations in the countries affected on how to pushback against Cybergun's practices of trademarking terms and functions invented by other airsoft companies. Cybergun cannot enforce such trademarks in other countries, mainly outside of France or certain countries in the EU as they will be going into conflict with the companies who can legitimately own such trademarks and airsoft functions. For you to find out more of these trademarks, you can download a PDF file sent to us by our French sources by clicking on the screenshot of the document below: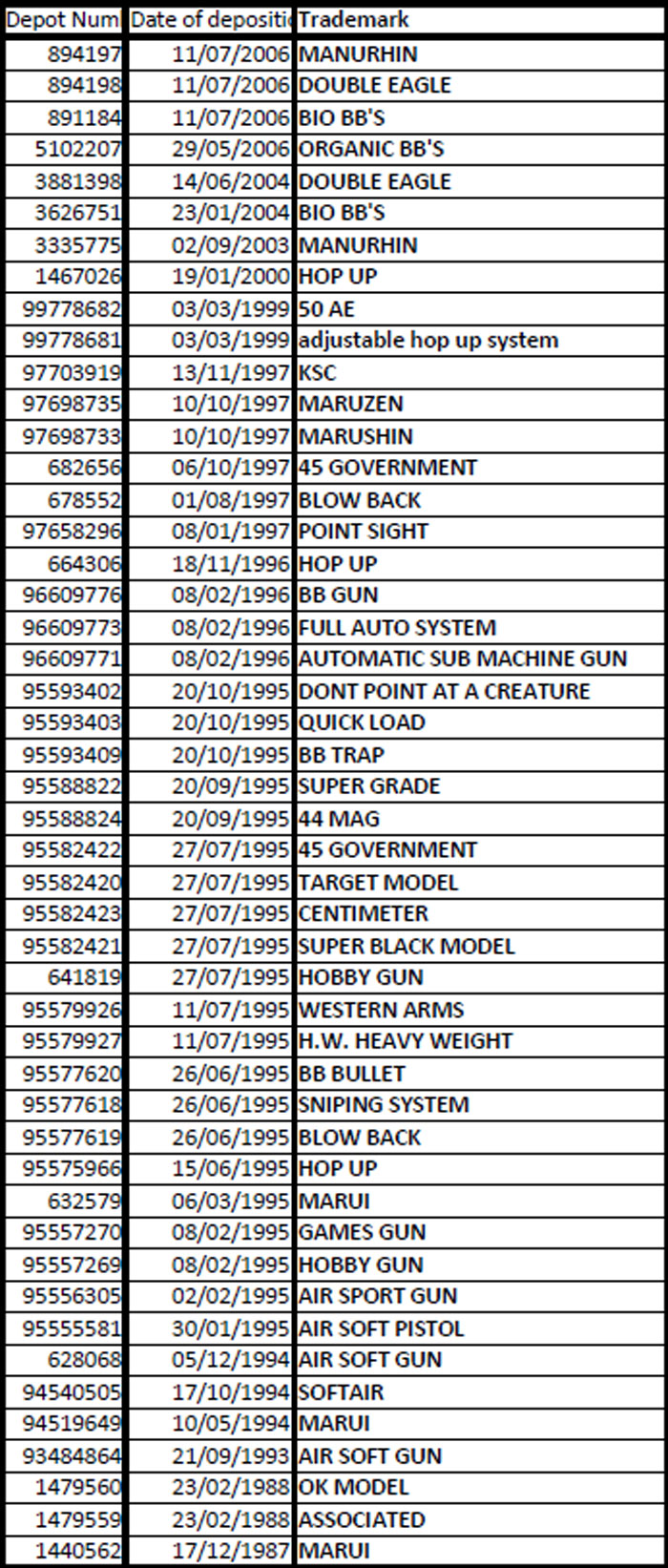 From:popularairsoft